"If you think you're enlightened, go spend a week with your family." – Ram Dass
Listening to the Tony Robbins podcast with Tim Ferriss, Tony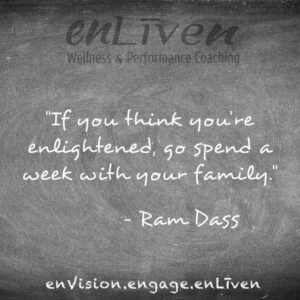 made reference to this quote and it literally made me LOL (and I don't use lol). It is so true. I'm not saying that hanging with family is bad. That isn't my point at all. In fact, I think our family is so in tune
to us that it is quite easy for us to trigger one another.
As hard as we may have worked on our spiritual selves, there is something about getting back into old familiar scenes that brings out our old familiar responses, for whatever reason. I love my family, but now I know that I have to center myself and be mindful instead of reactive in those familiar scenes.
I'll know that I have attained full enlightenment when I can remain totally Zen at Thanksgiving Dinner…LOL.