Do you ever turn on the radio to hear the most profound lyrics?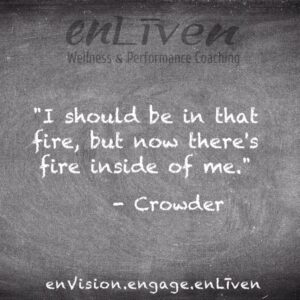 Hear words that stick with you and don't let go? That's what these words did for me. I actually turned off the radio to just let the ideas sink in and then knew this had to be my next #MusicMonday quote post.
Have you been in that fire, descended into that place from which you didn't know if you could ever escape? Maybe that's where you are now. If you are there, you have choices. You can assign blame, wallow in guilt and bring others down with you. You can continue to live the life that stokes the flames around you, burning at you until there is nothing left.
The other option takes courage, commitment, and perseverance.
Capture that flame and place it within your heart. The very same inferno with the potential to destroy you is also the seed of energy to power you into your purpose. Understand the power of the flame. The sparks may at times reignite around you, but it takes choosing your perspective, changing your habits, and maybe even changing your environment to harness its destructive nature back to a creative and driving force.
Turning destructive force into drive.
It is easy to mask and avoid the heat. You can pretend it doesn't exist even though you feel it licking at you constantly, but that usually pushes you toward choices that don't involve real solutions. Now this is the part that takes courage and support. Acknowledge the heat. Recognize and admire its potential. Allow yourself to truly feel the discomfort to ingrain it in your soul and then vow to never allow it to control you again. Decide what life you are truly meant to live. Understand that the fire you kindle in your heart can be shared with others, heart-to-heart, not as the wildfire you used to know. Make choices daily that align to your highest potential (it is greater than you think). From the painful burn that you will no longer allow yourself to suffer in comes the light, heat and energy of creation. Envision your greatest potential every day. Make it real little by little. Surround yourself with people who will feed your inner fire and remove those that stoke the flames that burn you.
It takes consistent effort to make important changes, but think about your greatest potential if you don't make changes. Now think of your worst case scenario. Can you imagine that? Now think of your best self if you do choose a greater path. Now what is your downside? If I had to guess, I would say that you are certainly no worse off than your best possibilities with life in its current state.
What fire will you pull into your heart as the seed for growth? Lets talk more about fueling your soul instead of the pyre beneath you.