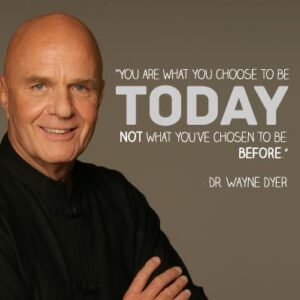 "Go for it now. The future is promised to no one." – Dr. Wayne Dyer
I heard about the passing from this life of Dr. Wayne Dyer just a couple of days after a binge listening of his podcast making his transition to the other side all the more surreal. I felt like he just spoke to me for several hours. To be honest, he seemed invincible, larger than life, destined to thrive for many more years.  I must believe that the medical issues he encountered and overcame in the past allowed him to continue helping others to heal themselves. This time however,  it seems that Dr. Wayne Dyer completed his living work on this plane. His creations in the form of books, movies, interviews, and videos shall thrive as will the ripples of all the lives he has touched.
To say Dr. Dyer was an inspiration hardly does his work and his life justice. Many experiences blessed Dr. Dyer shaping him into the man who has affected so many and showed us that our lives are truly what we make them. Does our upbringing prevent us from becoming the love and light we are made to be? Dr. Dyer spent much of his childhood in a Detroit orphanage and he used that experience to grow as a human.  Dr. Wayne Dyer was not infallible, he experienced difficulties with relationships and alcohol at times in his life, but allowed those experiences to develop him and his work and not to define him. As a life coach, the message I read loud and clear from Dr. Wayne Dyer's life is that we have the power to interpret our own lives in any way we choose. When difficult things happen to us or we when make our own bad choices, we can wallow or we can choose to see the blessings in every situation. Dr. Dyer has said, "If you change the way you look at things, the things you look at change."
If Wayne Dyer's messages could be distilled down to a single phrase, a phrase that taps each one of us as the most powerful creators of our own lives, perhaps it is best expressed by the quote that titled this article, "You'll see it when you believe it". I urge each of us to believe in ourselves and our highest purpose and act upon that faith to see how our own lives and the word around us change when we do. Extend the ripple that Dr. Dyer has set in motion and use your gifts to touch the lives of those in your circles.
Signing off as Dr. Dyer so often did,
Namaste
Select Resources by Dr. Wayne Dyer
Books:
Change Your Thoughts – Change Your Life: Living the Wisdom of the Tao 
I Can See Clearly Now
Dr. Wayne Dwyer's memoir so appropriately published in 2015, the year of his passing.
Wishes Fulfilled: Mastering the Art of Manifesting
Your Erroneous Zones: Step-by-Step Advice for Escaping the Trap of Negative Thinking and Taking Control of Your Life
Dr. Dyers first book, launching his career as an author and leader in the self actualization movement.
The Sky's the Limit
This book introduced me to Dr. Wayne Dyer as a freshman in my American Thought and Literature class at Michigan State University. While at first I judged this book by its cover and Dr. Dyer's cheesy moustache, his name and his works stayed with me.
Children's Books
Unstoppable Me!: 10 Ways to Soar Through Life
Incredible You! 10 Ways to let your greatness shine through
No Excuses!: How What You Say Can Get In Your Way
Movies
The Shift
There's a Spiritual Solution to Every Problem
The Power of Intention
The Diary of Immaculée