The seasons are definitely changing here in Ohio. Some trees are still hanging on to their last golden leaves while others have shed theirs until next spring (and one outside my window is still flashing some green). We won't discuss trees today (unlike last week), but we will talk about the benefits of cold showers!
Before you read on, take a moment to reflect on your day. What the best thing that happened today and what brought it about? If this sounds familiar, it is part of the Three Blessings/Three Good Things gratitude journaling activity from last week's, "something I'm doing".
Something I'm doing that I'd like to share…
Here I share a practice that I've established as part of my routine or something new I am just testing out. I will guide you to resources when I can so you can research it and decide if it might be helpful to you.
Cold freaking showers…I will admit. The first several times doing this, it feels like the worst idea ever. EVER! It is so uncomfortable that I didn't know how I could possibly endure more of it. But here's the thing. I started with 20 seconds immersed in the chilled rain from the shower head. That meant every day I went under the water, it was painful. But you can do pretty much anything for just 20 seconds, so their is a high probability of success starting short. If you've ever experienced jumping into the pool or a lake that was cooler, you know that you get used to it after a short time. The same thing happens under a cold shower. You quickly acclimate to the cold and it doesn't feel cold anymore. In fact, sometimes there is a sensation of heat.
Anyway, I started with 20 seconds of cold every day at the end of my warm shower for the first few days, then I added 10 seconds every couple of days, eventually building to 2 or more minutes, which I currently do most days (sometimes I am in a hurry and skip it, others I just don't feel like it. It is ok, I just try not to miss too frequently losing the habit).
Why would I do such and absurd thing? Just as a test of wills? Well, partly. Nothing wrong with pushing into harmless discomfort. I also do it for other reasons.
The Wim Hof Method
I learned the Wim Hof Method developed by Dutch extreme athlete, "The Iceman" Wim Hof. As mentioned above, one of the benefit is using presence of mind to overcome challenges of the body and mind. Another benefit is that consistent brief immersive exposure to cold water leads to a buildup of brown fat around the heart (among other places). Brown fat is a protective type of fat that develops to generate heat, thus increasing metabolism. Don't worry, brown fat does not make you heavier. It actually stores energy in a smaller space that white fat and with increased metabolism, it burns white fat. Cold immersion also reduces inflammation which is why you may see athletes in an ice bath after competition to jumpstart the recovery process. Fat loss can also occur due to the natural inclination to shiver when cold. That is the bodies natural process of building heat by causing involuntary muscle movements. Other reported potential benefits include:
Reduced depressive symptoms
Increased blood flow
Improved immune response
Increased mental alertness
As a caveat, while cold water immersion has plenty of health benefits, if you have a heart condition, you should check with your doctor prior to trying this cold shower challenge!
I'm reading (well, probably listening to)…. 
I guess it only makes sense to talk about that very same book from up above. In the book, The Wim Hof Method, the author shares his biography along with other methods he has used to master his mindset and body. This is a fantastic book for someone interested in experimenting with self-empowerment and pushing limits. Some of the topics Hof addresses are:
Using the breath  to change your body chemistry, infuse yourself with energy, and focus your mind
As discussed above, cold exposure to enhance the cardiovascular system and awaken the body
Building willpower, inner clarity, sensory awareness, and innate joyfulness in living
The science of how users of this method have redefined what is medically possible in study after study
True stories and testimonials from people using the method to overcome disease and chronic illness
Improving performance and increasing endurance, improving recovery time, upping the mental game, and more
Spiritual Awakening―How all of these techniques can reveal the beauty of the soul
As you know, I use the cold immersion in my daily life. Another tool that I have tried but have not yet fully incorporated is his breathwork technique. I have found it to be a challenge, though I was blown away by the immediate feelings of clarity it produced. This one is a work in progress for me.
If you read or have read this book, please leave your thoughts in a comment in my Facebook post about the book.
Random Share….
This is just something from my week that I'd like to share… Maybe you'll find it interesting, funny, annoying, uplifting or something completely different.
Super random, but delicious! This week you get a recipe of sorts. I didn't exactly measure anything out so if you want to try this, do so at your own discretion. This WAS kind of a refrigerator cleanout soup.
Ingredients
Ground lamb
Garlic
Shallots
Fennel bulb
Carrots
Brussels sprouts
Eggplant
Grape tomatoes
Herbs/Spices
Fresh Parsley
Fresh Rosemary
Coriander seed (ground)
Salt and Pepper (to taste)
Pantry
Canned diced tomatoes
Stock/broth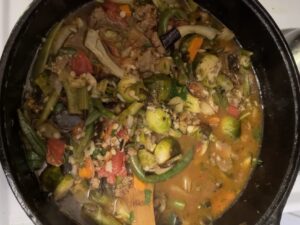 Herbs/Spices
Fresh Parsley
Fresh Rosemary
Coriander seed (ground)
Salt and Pepper (to taste)
Pantry
Canned diced tomatoes
Stock/broth
I browned the lamb in my favorite cast iron Dutch oven with a little minced garlic.
As the meat browned, I tossed the halved brussels and grape 🍅, thinly sliced shallot and fennel, green beans, cubed 🍆, and 🥕 rounds in avocado oil, salt and pepper and threw it in the oven until nicely roasted.
While the veggies roasted, a can of diced tomatoes went into the Dutch oven with the browned lamb followed by the herbs and spices.
After the veggies roasted, that too went into the pot. I added beef stock (but any would do) and water to desired consistency and let it simmer until serving.
This would probably make a fantastic vegetarian soup as well. I did end up using way too many vegetables and have much more soup than I planned on. So much for that fridge clean out….
Quotation that caught my attention….
I swear Wim Hof doesn't have me on his payroll…Let's just call this Bro Hug themey.
If you or someone close to you has been dealin' with that feelin' that there is something bigger in this life and you're not sure how to get started, stay motivated, or keep it all in perspective, reach out to me now for a consultation (it is free. You decide if you're ready to take on something this big. There's no pressure from me.)
As the Red Hot Chili Peppers sing, "Never been a better time than right now". Click the link below to schedule . With the consultation, you will also receive your Barrett Personal Values Assessment and VIA Character Strengths profile at no cost.
Schedule your complimentary consultation.
You can also call or text to schedule (419)665-1548 or reply to this email.